Nuremberg, Germany-based MRO, FAI Technik GmbH, part of the FAI Aviation Group and subsidiary of German special mission operator, FAI rent-a-jet has completed another outstanding Bombardier Global Express refit project, following the successful completion of its award-winning Project Pearl in 2020. The project also included 30/60/120/240-month inspections and new paint. Following 20,000 manhours of work, it is anticipated that this latest Global Express (D-AFAU) will be available for charter and lease from June 2022.
The multi-million-euro project which received its EASA STC certification in April, marks the first and only installation of an original Global XRS cabin into a classic Global Express. The custom interior refurbishment, designed by FAI's inhouse team features an all-new cabin with VIP seating for 12 passengers in tasteful cream leather, complemented by a stylish black and cream striped designer carpet and striking dark chocolate high gloss piano style wood surfaces with rose gold metal plating throughout. Elegant beige stone floors adorn the galley as well as the VIP lavatory area which features JetsTM vacuum toilets. The luxury interior is complemented by Collins Aerospace Cabin Electronics System (CES) V7. Exterior paint was also undertaken by FAI Technik.
"This latest highly demanding, first-class refit project further underlines FAI Technik's performance and expertise in the refurbishment and modification of Bombardier aircraft," said Michael Axtmann, Commercial Director, FAI Technik.
FAI Technik scooped the Innovation in Engineering Category at the 2021 Middle East Aviation Awards for its work on its Project Pearl Global Express refit.
FAI Aviation Group will be attending EBACE 2022 in Geneva on Monday, 23 May to Wednesday 25 May.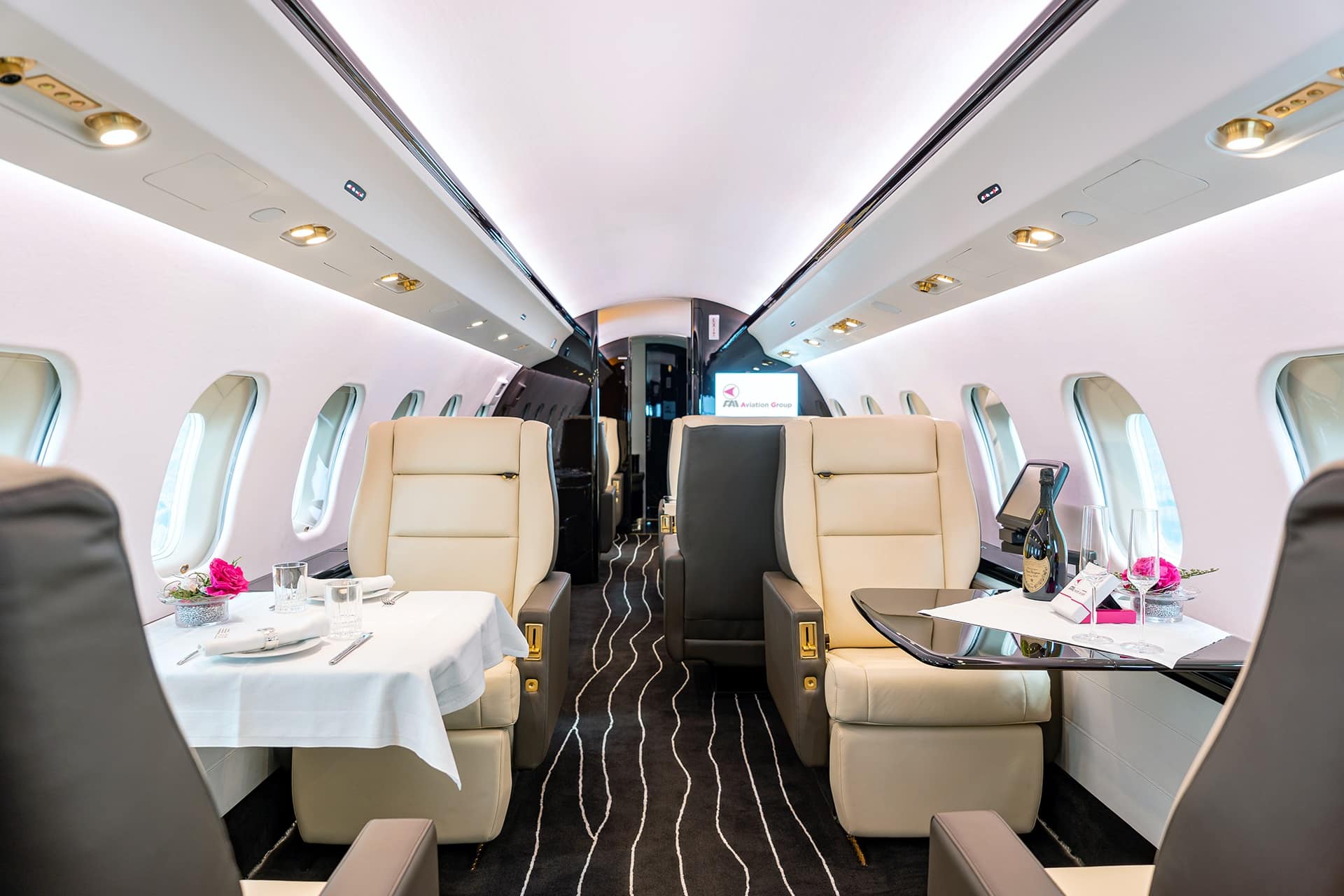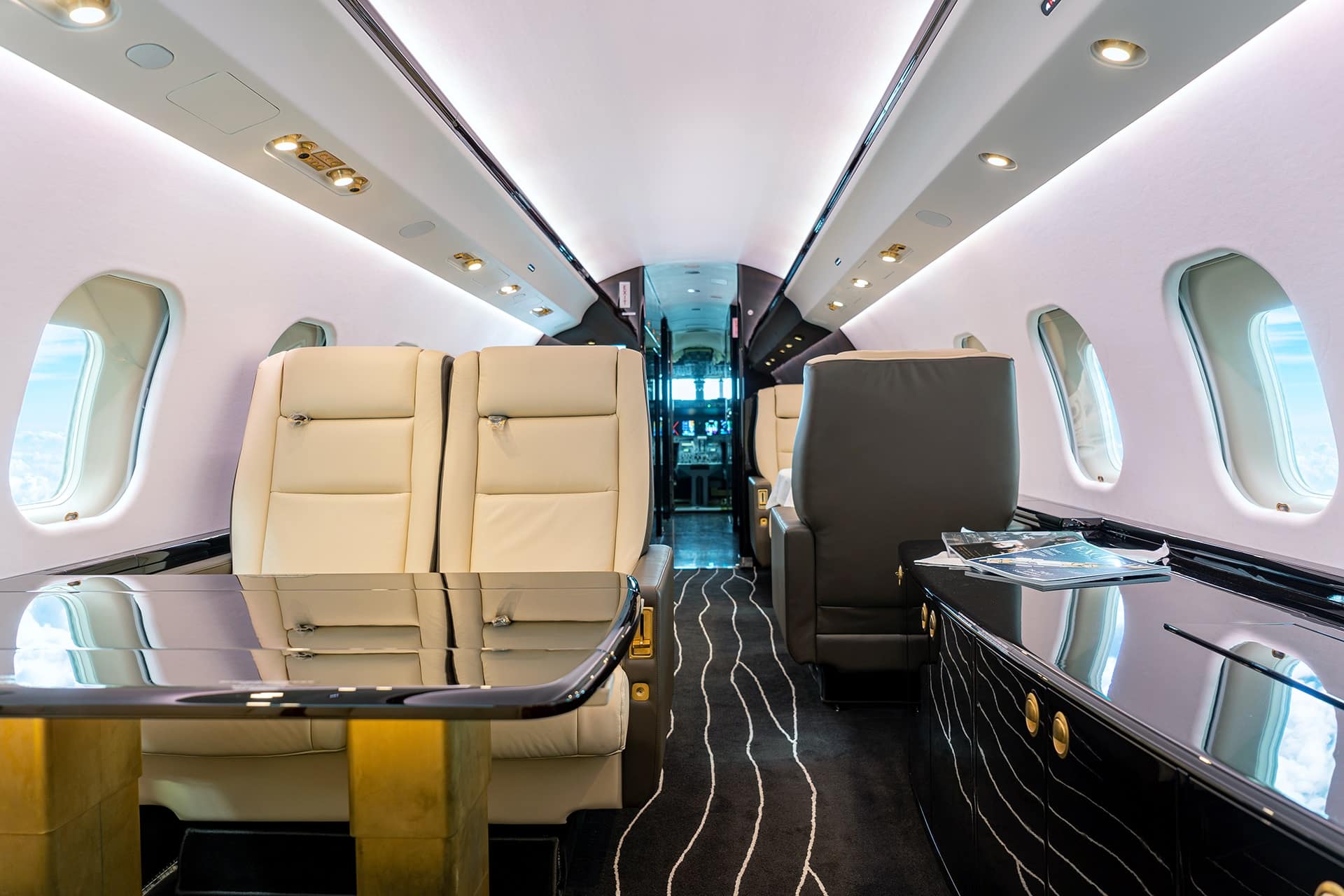 About FAI Technik
 FAI Technik is a 100 % subsidiary of German GA-Operator FAI rent-a-jet GmbH. Operating as a full service FBO and MRO, FAI Technik at Nuremberg is licensed for base and line maintenance of the Learjet 60, Challenger 600-series and Bombardier Global Express 700-series, including modifications, aviation upgrades, interior refurbishment and component services such as batteries and wheels.   FAI´s EASA part 145 licence is approved by the Cayman Islands and Bermuda, as well as the US FAA and Nigeria.  FAI Technik Nuremberg is a distributor for Collins Aerospace, Gogo Business Aviation and GARMIN.
About FAI Aviation Group
FAI Aviation Group operates Germany´s largest fleet of Bombardier business jets. The fleet includes five Global Express, six Challenger 604s and seven Learjet 60s. FAI runs a 14,000 m² carbon-neutral fixed-base operation at its Nuremberg, Germany headquarters, employing a staff of close to 300 people, including 70 mechanics and engineers at its in-house MRO FAI Technik GmbH and another 30 staff at its Berlin base.  FAI´s Group consolidated revenues in 2022 were close to € 130 m with a fleet utilization of more than 12,000 hours of flight time.
FAI was proud to receive the Diamond Safety of Flight Award from the European Business Aviation Association (EBAA) in May 2018, marking the highest safety recognition awarded by EBAA to member companies operating business aircraft for 50 years or 100.000 hours without accident.
In 2019 FAI received a 10-year anniversary award from MEBAA, reflecting the fact that 20 % of its flying activity is now in the Middle East and was honored with an Aviation Annual Achievement Award, in recognition of its 30 years of air ambulance and special mission flying.
In 2020 and 2021 FAI received the prestigious Award "Air Ambulance Company of the Year" from ITIJ Magazine.
In 2021, FAI was awarded the Pandemic Response Special Award in recognition of its response to the Covid-19 pandemic.
In 2022, FAI was awarded "20 years of Aviation Excellence in the Middle East" by MEA Business at the Aviation Innovation Awards.
FAI is official supplier of the McLaren Formula 1 Team.
Larionow Max
FAI Aviation Group, one of the world's leading global providers of mission-critical aviation services is pleased to participate at this week's Bahrain Airshow (Booth D10) some 20 years after it first set up operations in the [...]
Larionow Max
Nuremberg, Germany-based MRO, FAI Technik GmbH, part of the FAI Aviation Group and subsidiary of German special mission operator, FAI rent-a-jet has completed another outstanding Bombardier Global Express refit project, following the successful completion [...]
Larionow Max
FAI Technik GmbH, the expanding German MRO supplier and part of FAI Aviation Group, has completed the sale of its award-winning, refurbished Bombardier Global Express Project Pearl to an undisclosed private US buyer. The [...]