FAI Aviation Group is operating an exclusive fleet of Bombardier Aircraft (Global / Challenger / Learjet), is one of the largest operators in Germany and of the largest flight-ambulance operator worldwide.
FAI is your flexible, reliable and highly efficient partner when it comes to tailored charter requirements. Whether you want to fly a jet aircraft or a turboprop – with us you can opt for comfort and exclusivity, if business or private atmosphere and we bring you to any destination you wish to fly to. We operate in all regions of the world and if required fly in and out of airports which are usually not served by others. Amongst our guests on board are celebrities, entrepreneurs as well as corporate leaders who regularly fly with us.
Headquartered at Albrecht Duerer International Airport in Nuremberg, Germany, FAI Aviation Group is a European pioneer in global high-end aircraft services providing unparalleled experience on Germany's largest VVIP charter and air ambulance fleet of six Bombardier Global Express, five Challenger 604, one 850, 12 Learjets 60, 1 Premier 1A and 1 King Air 350. The fleet includes two aircraft providing Special Mission Services for the United Nations – the world´s largest NGO. In addition to the UN, FAI has also approved service provider of ICRC (Intl. Committee of the Red Cross), WFP (World Food Program) and other global acting Health and Relief Organizations.
FAI runs a 14,000 m² carbon-neutral FBO at its Nuremberg Homebase, employs a full-time staff of 200 people, including 60 mechanics and engineers at its in-house MRO, plus some 50 part-time physicians and paramedics. FAI operates satellite offices in Dubai and Miami.
FAI holds an Air Operator Certificate (AOC) issued by the German Federal Ministry of Transport under license no. D-049 AOC, as well as a Maintenance License for aircraft of the manufacturer Learjet-Bombardier, license no. DE.145.0062 EASA Part-145. FAI also operates an in-house pilot-training centre (APPROVED TRAINING ORGANISATION; ATO) under license no. DE.ATO.062. All three licenses are quality seals, certifying that all quality requirements are met for air transport, maintenance and pilot-training.
 Jet Charter Flights to Special Mission Services for Governmental Agencies and NGO's, Corporate Aircraft Management, Aircraft Sales and Leases.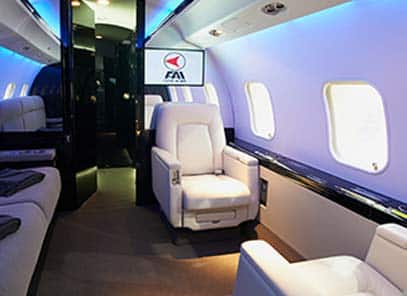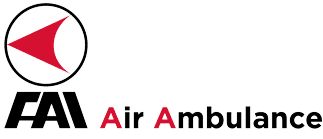 24/7 Patient
Transport by
Ambulance Jet
Bedside-to-bedside service, intensive care transports, neonatal incubator transfers, medical escort aboard airlines.
More
than just
Maintenance
Traditional high quality aircraft maintenance capabilities, aircraft storage and hangarage as well as new FAI SPA services.
You can contact us anytime – 24 hours a day, 7 days a week.